This Holiday post is brought to you in partnership with L'Occitane en Provence. Thoughts and opinions are my own.
One special Holiday tradition I loved as a kid was the Advent Calendar. My mom would get one from our local Italian grocery store, these ones she would bring home every year filled with chocolate. Each day I woke up with excitement for the Christmas holiday as I counted down each day with a chocolate treat behind each door. I find it wonderful way to celebrate each day of December and depending on how religious you are in your household can serve as a fun teaching tool throughout the month as well!
I love how L'Occitane en Provence has taken this special tradition I love so much and created something I now as an adult can get excited about all over again. Forgoing the chocolate, which you probably shouldn't be eating every day for a month straight, L'Occitane has sweetened up the traditional Advent Calendar with their luxury products. It's a wonderful way to discover their beauty collection. For example before receiving the Luxury Advent Calendar I didn't know they made a Divine Youth Oil or Verbena Eau de Toilette, some new favorites of mine.
As I was having a great time discovering new (to me) products behind each little door It dawned on me what a fun and thoughtful gift this would make! Can you imagine?! Every day for 25 days your giftee would be opening up a luxury beauty item and thinking of you! I think its a perfect gift for in-laws, and even in some corporate or business situations. Who in your family or friends circle would love opening a beauty item every day?
Below you can see the Luxury Advent Calendar on the Left and the Signature Advent Calendar on the Right. The Luxury Advent Calendar is a $174.50 value currently sold at $124. While the Signature Calendar is a $104 value but currently sold at $69!
Look at all the goodies! It felt wrong opening them up so early but I had to the investigating for you!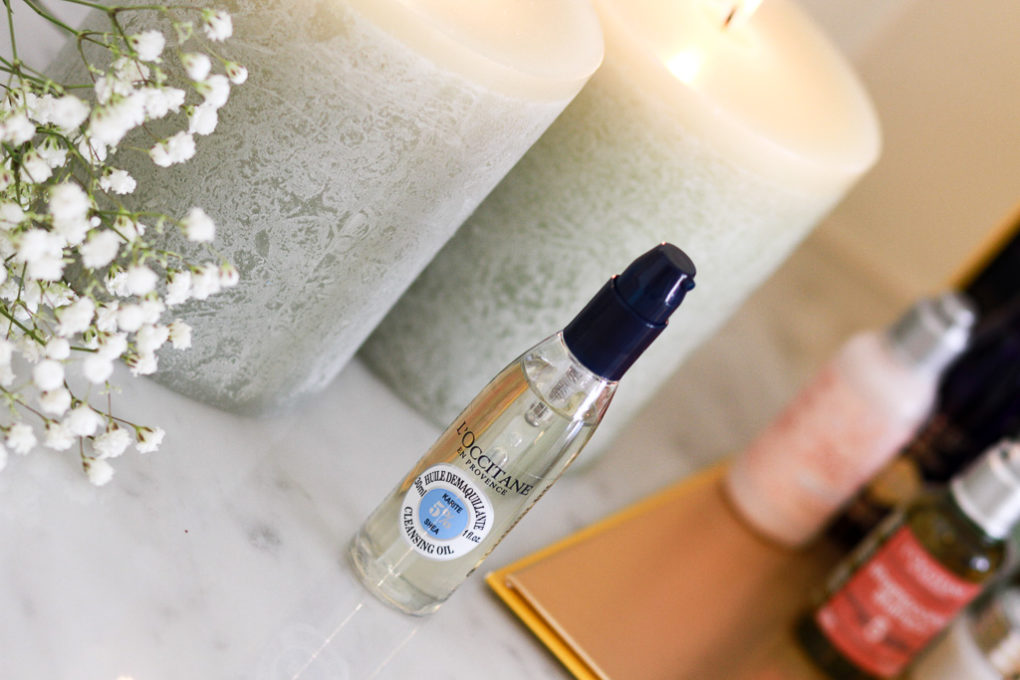 My Favorites from L'Occitane Luxury Advent Calendar
1. Divine Cream – acts on wrinkles, firmness, radiance and, evenness. I can't wait to see the results of this one!
2. Divine Youth Oil –  this face oil helps fight against visible signs of aging.
3. Cleaning Oil – during the harsh winter months is a great way to keep your skin from drying
4. Immortelle Essential Water – a refreshing toner that balances skin PH levels.
5. Verbena Eau de Toilette – with organic verbena from Provence this fresh, rosy base of geranium and lemon tree, I love this scent for daily wear!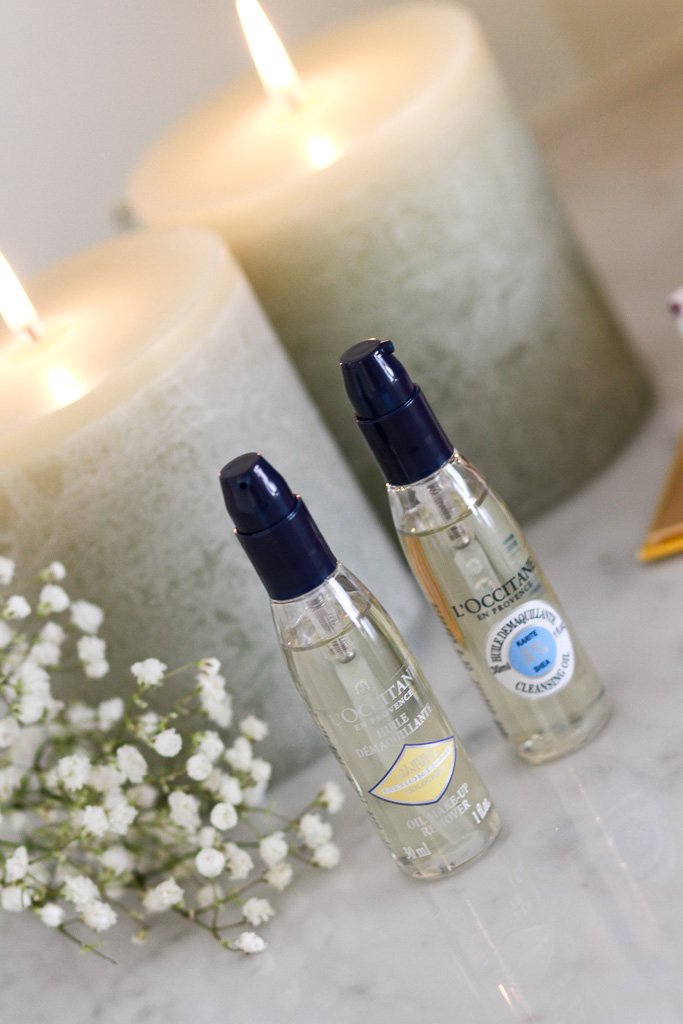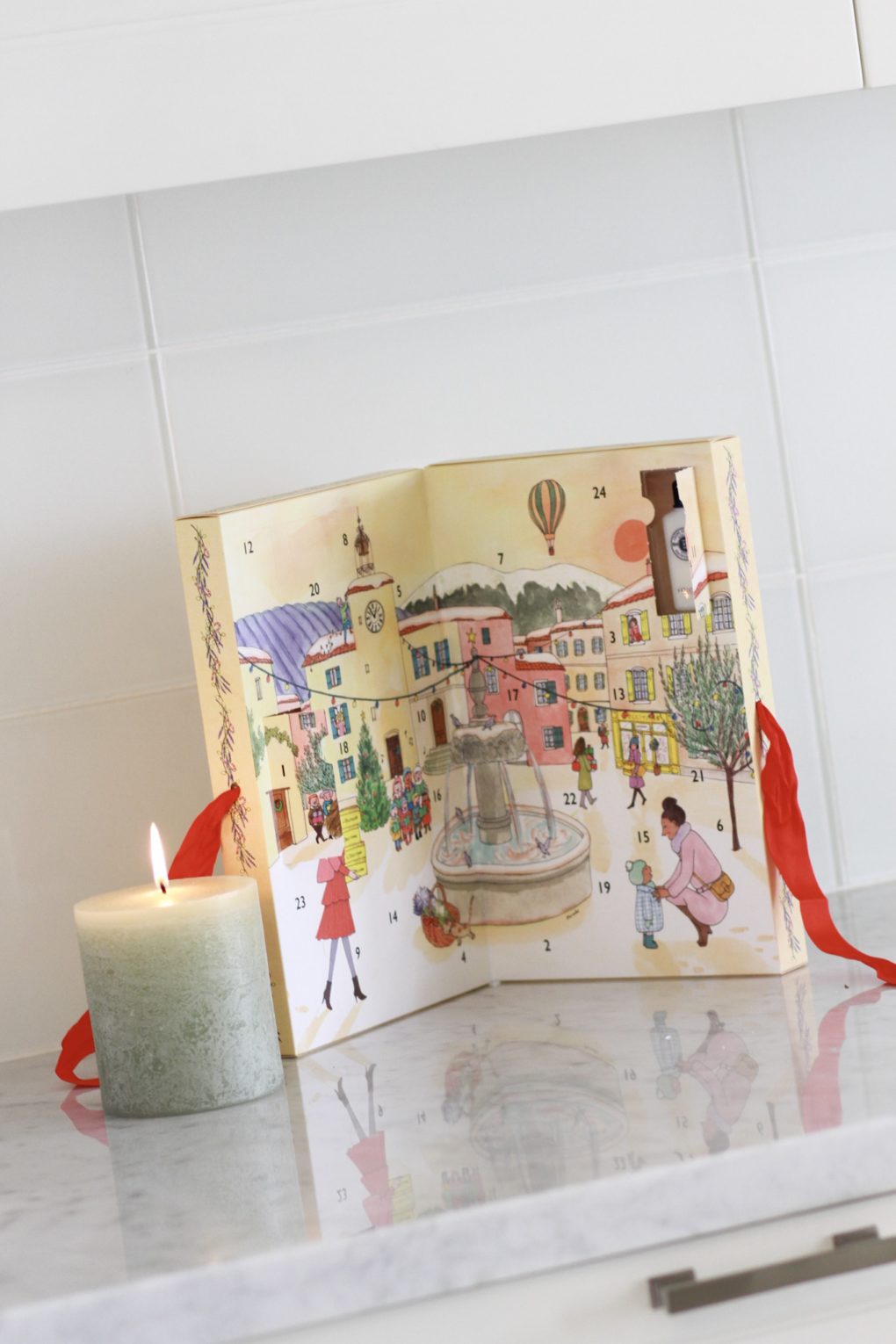 My Favorites from the Signature Advent Calendar:
Cherry Blossom Shower Gel and Lotion – I love anything cherry blossom and this shower gel and complimenting lotion leaves you with a delicate hint of cherry blossoms.
Almond Milk Concentrate – enriched with powerful almond extracts, this concentrate is more than a moisturizer. It melts into my skin in a creamy and silky texture. another great item for the harsh winter weather
Arlésienne Eau de Toilette – this scent is  made of rose from Grasse, sweet violet, and saffron from Provence. The floral bouquet scent
Aromachologie Shampoo – I'm looking forward to trying this anti-breakage shampoo as my blonde hair is quite delicate especially during the winter months!
Almond Shower Oil – hydrates and nourishes skin while cleansing. I like this as opposed to soapy products that leave your skin feeling dry and tight.