Not many people who meet me as an influencer / fashion writer know about my ballet past. It actually surprises me when I realize that some of my closest friends now don't know "ballerina Chiara", especially since I identified with ballet for the overwhelming majority of my life. Friends I talk to daily have no idea of my past, the joys and the sorrows,  what my training used to be like, where I have performed, where I have been invited to audition, the injuries, the insults, the rejections, the persistence. Ballet and dance defined who I was for 26 years and one day I just stopped.
"Ballerina Chiara" was tunnel vision, oddly insecure and confident at the same time, naive, competitive as hell and goal oriented. You don't realize it until you step away from it, but ballet dancers, at least when I was growing up, are trained to be submissive and people pleasers (yes we are also trained to be many other wonderful things), but one day I found myself tired of the negative aspects of it. Coupled with back pain/ injury, the idea of trying to convince choreographers, directors, teachers etc… that I was worth it, worth the role, worth the contract, etc… was just annoying to me and I was over it! I know this is sounding really negative but it's not negative at all. Everyone I had worked with was absolutely amazing, I cherish them so much and know how (hashtag )blessed I am to have had the oppertunities I did. It was completely an inward feeling I had to sort out.
Like Belle and Ariel I wanted more, I wanted different.  I had gotten to a point in my dance career where I loved it more than it was loving me back, not unlike a one-way relationship where you find yourself thinking…"why am I putting up with this cr*p?!"
For the following few years I focused on who I was apart from dance. I made friends that were not connected to dance and discovered what "life after ballet" was. I was often asked if I still take class or "miss" it and I could honestly say no. Why would I miss looking into the mirror every day in class and picking myself apart; more rotation, higher legs, softer arms, longer neck, less rigid, but sharper! where's the musicality? Nope don't miss it one bit! After ballet I was living my best life, being free from performance and rehearsal commitments I was able to travel more, get immersed into building my blog which, among many other things, led to my involvement with LAPALME Magazine (which certainly didn't happen overnight). I was flying out to L.A a few times a year, going to Fashion Week's, assist-styling celebrity shoots, and shopping for clients, it was surreal and I found confidence in doing something "other" something that seemed unattainable from the ballet barre.
Coming back to Ballet:
After 3 years of nothing ballet related, with the exception of one stunning photoshoot, a dear friend I had met in my last year of dancing moved back to Houston and invited me out to Houston Ballet's "The Tempest". That following week I had dreams vivid dreams of dancing, dreams where I was doing 13 pirouettes, dancing in a flowing chiffon dress, all the beautiful and romantic imagery that epitomized the deep feelings and joy I felt when I danced. I woke up and thought "I'm ready to start taking class again". I researched open adult classes in Houston and found Houston Ballet's scheduled worked the best for me. The days leading up to class I was so excited to get in there, I was a giddy highschooler anticipating Prom. Could I make it through barre? Will I remember the combination right after it's taught? How winded will I be after jumps?  MY PIRROUTTES, OMG will I still have my pirouettes?! But, I was excited to find out!
I find I now am ready to bring back this other part of myself I tucked away for a few years. I had to leave it completely so I could let go of the negative and come back to ballet in a positive way. I'm not sure where my journey in dance will take me. For now, I am just trying get back into more regular classes and feel improvements in my movement. In a therapeutic and "giving back" exercise I want to share my new journey in dance and be a resource for anyone venturing into the ballet world. Stay tuned for more ballet and dance related articles.
I do desire to know if you have any particular areas of dance/ ballet you would like to know more about. Let me know in the comments!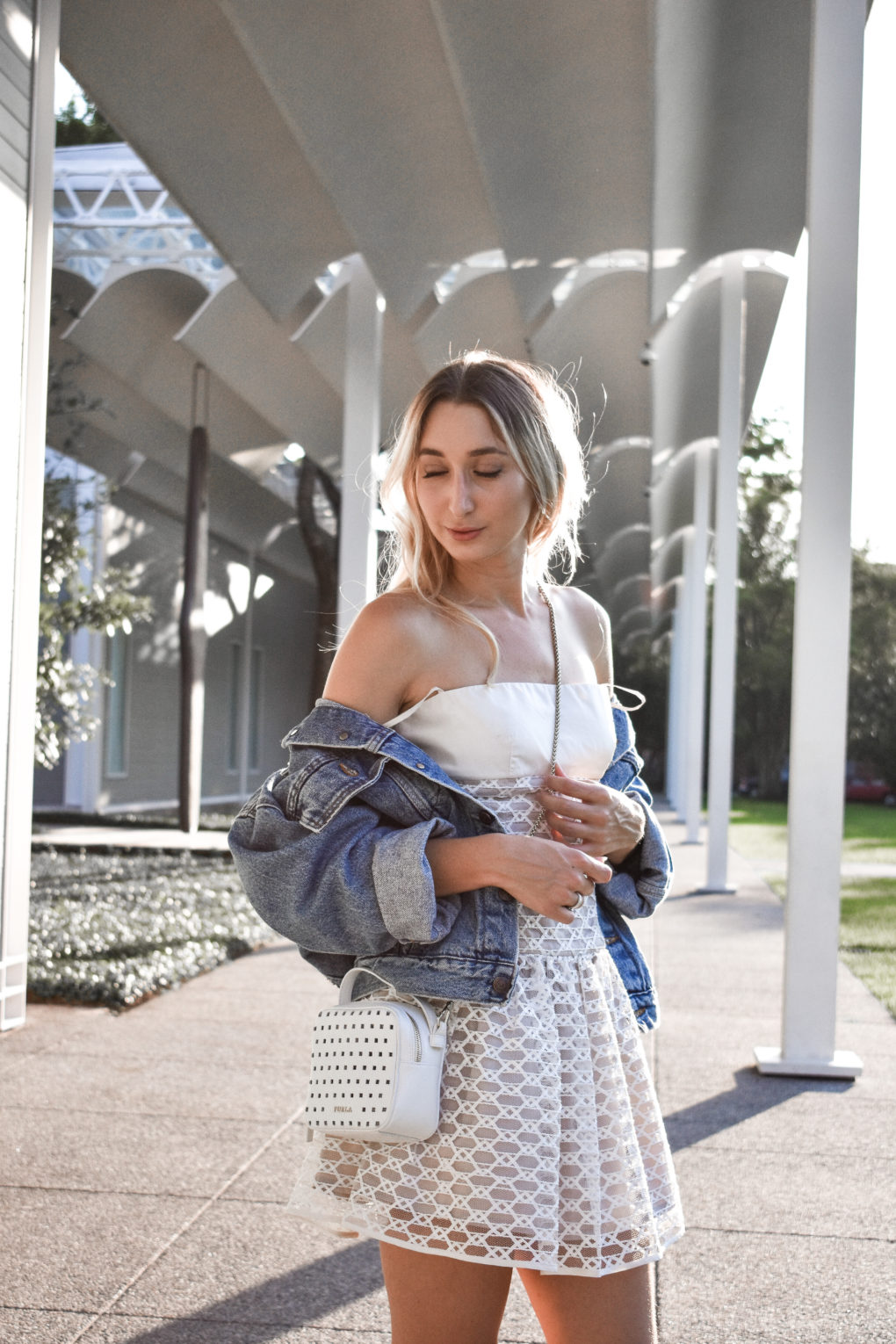 Look:
Dress: Red Valentino [ similar ] Jacket: Deansley
Shoes: Badgley Mischka [ similar ] Bag: Furla [ similar ]
White Lace Dresses: